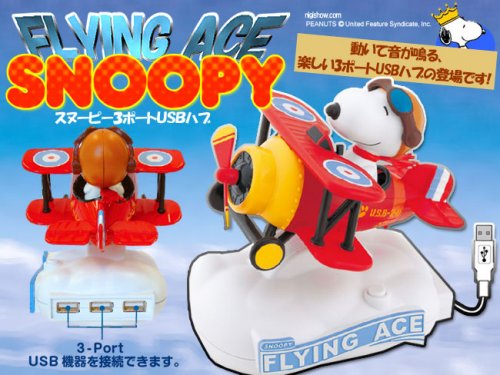 If you are a Snoopy/Peanuts fan, you'll want to add this Snoopy Flying Ace USB hub to your desktop collection. You probably already have a Snoopy laptop anyway. Just plug the Snoopy USB hub into your computer's USB port and Snoopy and his plane will start moving.
You can pretend he's fighting the Red Baron, despite the fact that there's no Red Baron. And the fight will take place entirely in your imagination and on your desk and not in the sky. In fact the thing looks silly, moving up and down like a kid's ride outside of a department store. But if you like such things it will cost you $58.67 USD. Video below.

He sure looks like he's having fun.

cartoon, Flying Ace, peanuts, Snoopy, USB hub, usb toy