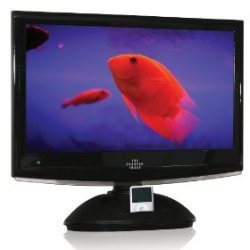 The Sharper Image is starting to out some of their products again. Here we have 19 and 22 inch LCD TVs, each with an iPod Dock and DVD Player. The TSI-LCD22DVDi LCD sports a built in DVD player, USB, SD card reader and an iPod dock.
It looks pretty close to the JVC LCD TV's that have the same feature. Other features include HDMI, PC Audio, VGA, component, S-Video, and RCA inputs. If 22″ is not the optimal size for you, Amazon has the same model in a 19″ version.

It should be available on November 15. The Sharper Image TSI-LCD22DVDi LCD will cost you $419.99 at Amazon, while the 19″ Sharper Image TSI-LCD19DVDI retails for $359.99 at Amazon.
DVD player, iPod dock, LCD, Sharper Image, tv