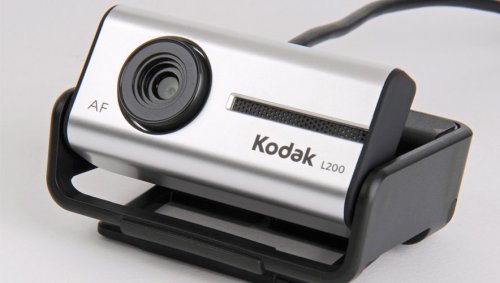 Sakar International has announced a bunch of new Kodak webcams. The list includes the S100, a driver-free webcam; the T130; an auto focus webcam and the the P310HD, a webcam with a three megapixel sensor which produces HD quality video.
There's also the W100 and a two megapixel auto focus webcam called the L200. The cameras can automatically connect to IM and VoiP services like AOL, MSN Instant Messenger and SKYPE by automatically launching the app without the user having to do it themselves, which is neat.

Each model will temporarily store media on the built-in video and image manager, so that users can upload directly to popular websites like Kodak Gallery, Facebook, MySpace, Flickr, YouTube and PhotoBucket.
Then there's the Kodak Smile G150, a digital photo keychain that can store and display over 100 images. The device sports a 1.5 inch LCD screen and a USB connection to upload photos.
Expect the Kodak Smile G150 for $30 later this month in black, gray, red, blue and silver with a built-in rechargeable lithium-ion battery that has an average life of about two hours when fully charged. The new Kodak webcams will range from $30 to $100.
digital photo keychain, Kodak, Sakar, Webcams