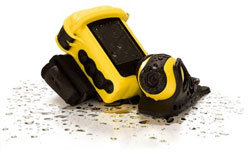 Extreme sports fans like to show people all the crazy stuff that they do from sky diving to swimming with five four year olds at once (which I assure you is very extreme) the catch is most cameras can't stand up to the rigors of this type of use. What these people need is a camera like the Predator VX360.
The VX360 is a wearable camcorder that is water resistant and aimed directly at the extreme sports market. The camera is waterproof to three meters and robust enough to survive impact with rock and the salt from seawater.
The cam has a fully adjustable head mount designed to be work on a headband and the camera can be arranged and set up quickly. The cam also has an LCD to watch the video immediately if you want. The Predator sells for GBP549.99 and is available now.
camcorder, Predator