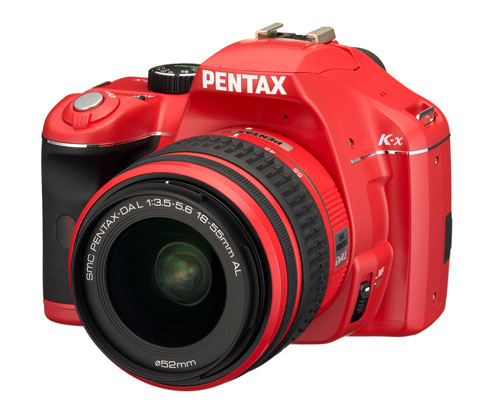 The problem with most of the DSLR cameras that have been introduced recently is that they are either very expensive and high-end or they are budget offerings that lack the features most want. Pentax has announced a new entry-level DSLR called the K-x that has lots of features at a good price.
The K-x comes in red, blue, white, or black colors, and the red looks fantastic. The cam has 12.4-megapixel resolution with sensor-shift shake reduction for both still shots and video. Yeah, the camera can shoot 720p HD video at 24 frames per second using any Pentax lens.
The camera feature HDR image capturing mode and a selection of creative filters. Bursts can be shot until your memory card is full at 4.7 frames per second. The cam also has a full array of automatic modes and uses an 11 point autofocus system. Power comes from plain old AA batteries. The camera body with an 18-55mm kit lens sells for $649.95. Add in a 50-200mm lens as well as the basic kit and the system costs $749.95. Replace that 50-200mm lens with a 50-300mm lens and the kit will set you back $849.95.
DSLR, Pentax