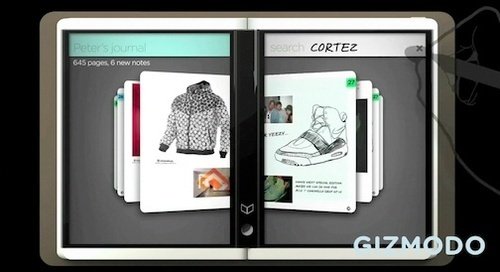 Microsoft's Courier tablet took us all by surprise. Now an internal video has surfaced showing how Microsoft thinks we'll use Courier, giving us an overview of the interface and more of Courier's features. At the core of the Courier is the "infinite journal", a journal/scrapbook that is endless, presumably bound only by storage. The journal can be published online, and it's able to be downloaded in three formats: a Courier file, Powerpoint or PDF. There's also a library where things like subscriptions, notebooks and apps, are stored.
It also shows some more traditional elements like a smart agenda, more defined folder system, universal search and multi-page web browsing. Nothing about viewing content, like watching movies, reading books etc. It looks like Courier is all about creating and writing with a pen, which is not what we are used to, especially when you think about the Apple tablet.

Hit the link for the video.
Courier, details, interface, Microsoft, tablet, video