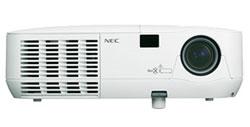 This has been a week packed full of new projectors. The good news is that many of the new projectors announced this week are lower priced making them affordable replacements for HDTVs in the living room. I think most guys would want the largest image they can get, and a projector delivers that.
NEC has unveiled a pair of new projectors called the NP110 and the NP215. These projectors have up to 2500 lumens of brightness and integrated speakers. The native resolution for the NP110 is 800 x 600 while the native resolution for the NP215 is 1024 x 768. The contrast ratio is 2000:1 and the lamps promise up to 5000 hours of life.
Other features include BrilliantColor technology, built-in wall color pre-sets, a filter free design, carbon savings meter for use in eco mode, and a green eco mode. both projectors will ship in October with the NP110 selling for $459 and the NP215 selling for $599.
NEC, projector