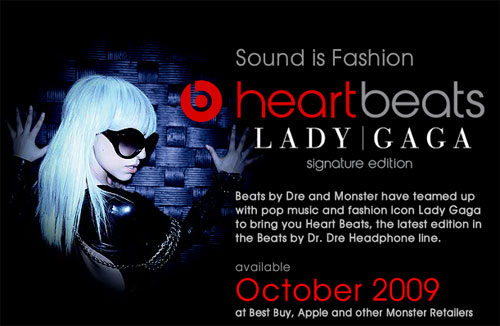 The Monster Beats by Dr. Dre line has several different sets of headphones that are not cheap and are over ear headphones that are very large. Most people, especially the ladies, don't really want huge headphones to listen to their music with.
Monster has announced its first Artist edition headphones in the Beats line with a set called Heartbeats by Lady Gaga. The headphones meet the strict audio quality requirements of Dr. Dre and monster while being made to a more refined design standard by Gaga.
The new headphones are high-tech and offer great sound quality according to Monster while being designed to look like a piece of jewelry more than a set of headphones. The Heartbeats feature a faceted, glossy surface with a jewel-inspired theme. They will come in a metal body with rose red earpiece, a metal body with chrome earpiece, and a black on black color scheme.
Beats by Dre, Headphones, Monster