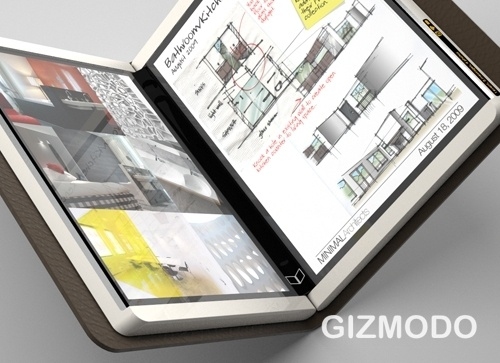 According to a recent report from Gizmodo on Tuesday, Microsoft is confirming rumors that it actually does have a new dual-screen tablet in the works, codenamed Courier. According to the article and a short demo video, the Courier is a real thing and is more like a "booklet" than a tablet as it folds together and has two interactive touch screens side-by-side with loads of fast functionality.
The project has apparently been kept under pretty tight wraps with very few, both inside and outside of Microsoft, with knowledge about it. In fact, rumors are that the team working on the project, led by J. Allard (a designer involved in the Zune and the Xbox) has been kept away from the main Redmond campus to help keep it secret.
It's unclear if the Courier is the actual tablet-type product that Microsoft will bring to market as it sounds like they are working on a number of prototypes to find the right one that may give Apple's rumored tablet a run for its money.
Photos via Gizmodo

booklet, Courier, Microsoft, tablet