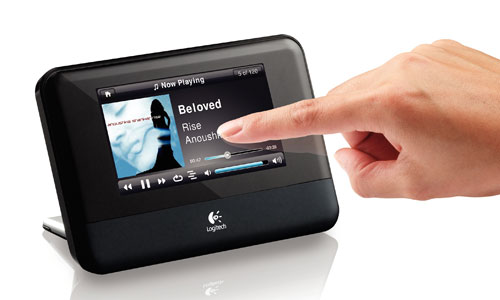 Music fans are always out for cool and easy ways to stream the tunes they love all around their home. Logitech purchased Squeezebox several years ago and has continued offering cool new products in the line.
Today Logitech has officially announced a pair of new Squeezebox players called the Touch and Radio. The Squeezebox Radio is a Wi-Fi music system that lets users listen to music all around the home and has an optional remote and rechargeable battery pack. The device supports internet radio, iTunes plus DRM free tracks, Napster, Rhapsody, Sirius and more. The color screen shows album art as well.
The touch has a 4.3-inch color touchscreen that lets users select and touch the screen to activate music. The device can be plugged into existing speakers and can connect to your home wireless network. The device features a USB port and an SD card slot for viewing photos and accessing music and also supports Facebook and Flickr. The Wi-Fi Radio is set to launch in September for $199.99 with the battery and remote selling for $49.99. The Touch will ship in December for $299.99.
Logitech, Squeezebox