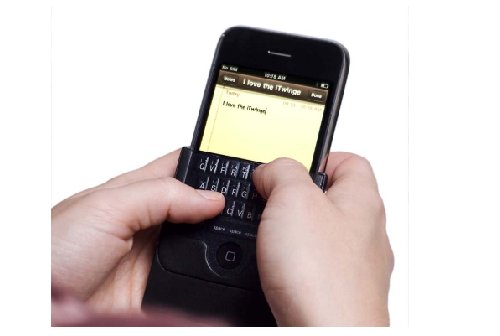 Listen up all of you faithful Blackberry users. This device may just convert you to the church of the Jesus phone. This is a keyboard for the iPhone dubbed iTwinge. An actual feel and tactile keyboard for those types who think they are all thumbs and aren't comfortable using the touchscreen version.
It launches tomorrow for $29.99 and you will be happy to know that you can type as fast as you can on a standard QWERTY keypad. The iTwinge just slips on to the bottom of the iPhone like a pair of iPhone pants and just like that your iPhone has a full fledged QWERTY keyboard.

It supports the iPhone 3G and 3G S. Obviously it looks a tad uncomfortable to hold. Might I suggest slimmer pants?
Apple, iPhone, iTwinge, keyboard