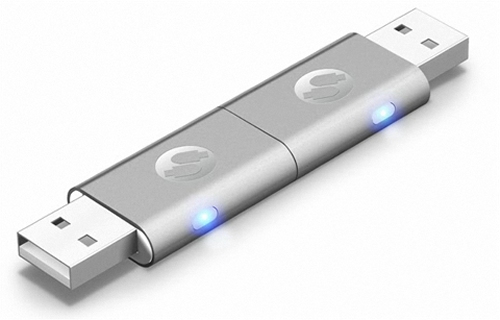 A new startup company called iTwin has what they are touting as some simple hardware to connect remote computers together and share information. The iTwin device consists of two USB drives that start out hooked together, but then can be plugged into separate computers to allow instant sharing of files. The designers state they realized that many people understand how to use a USB drive, but small USB drives hold a limited amount of data and lack in security if you lose the drive.
A user of the iTwin drives can connect them to a single computer and drop some files into the drive, then disconnect the second USB drive. The second USB can then be taken to another computer somewhere else in the world and plugged in, giving instant and automatic access between the two computers. A number of hurdles immediately come to mind when thinking about how this could work with everything from individual computer firewalls and port security, to network firewalls, internet connections and authentication on both ends. But, according to the designers of iTwin it basically makes a connection between the two computers as if they have a "cable-less cable". The file sharing is unlimited and encrypted, and by simply unplugging one end, the other end is left useless for any attempting hacking.
The iTwin company is based out of Singapore and plans to launch the product locally in the first part of 2010, and eventually moving to the U.S. and Europe six months later, selling for $99 each.
iTwin, Remote Connection, USB