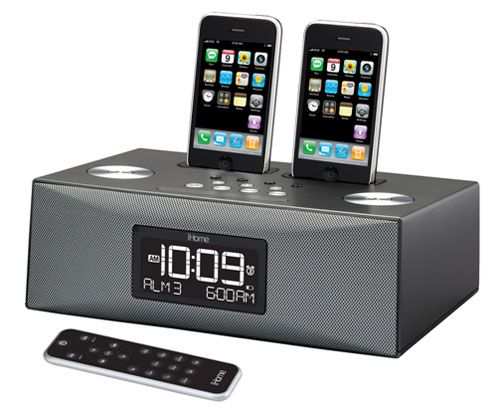 Alarm clocks that will dock and charge your iPod or iPhone are great. That way you can wake to your favorite music rather than whatever happens to be on the radio. With the popularity of the iPhone and iPods, many homes have two or more devices in the house. The average docking alarm clock can only charge one device.
iHome has unveiled its new iP88 dual Dock Radio & Alarm System for iPhone. The device has a pair of docks on the top that can charge the iPhone and any dockable iPod. It can wake you to iPod music, AM/FM radio or a buzzer. The user can set three alarms.
The clock also includes a remote control and has a sync button to set the clock time to the time on your iPod. The buttons on the clock are backlit so you can see them at night. The iP88 is available now for $149.99.
iHome, iPhone, iPod