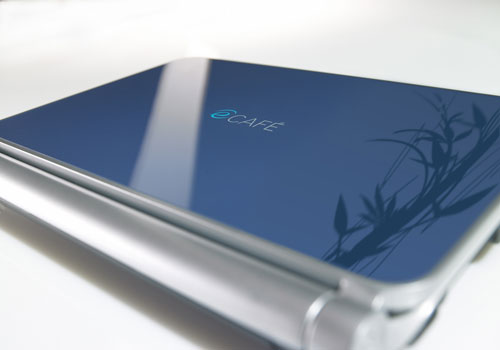 The netbook market is getting very crowded today with companies that don't even make computers getting in on the segment. That means that many of netbooks out there are the same machine with different brand names. The latest non-computer maker to get into the netbook market is Hercules.
Hercules is a company more known for its line of gaming peripherals than anything else. The firm has announced its new eCafe EC-1000W netbook will ship in October for $399. The netbook has a cool design with a lid different from anything else on the market.
Under the hood, the machine has a 250GB HDD, which is significantly larger than the HDD on most notebooks. The screen is a 10.1-inch 1024 x 600 unit and the processor is an Intel Atom N270. Other features include Wi-Fi, a 6-cell battery, 1GB of RAM, and a webcam with mic.
Hercules, Netbook