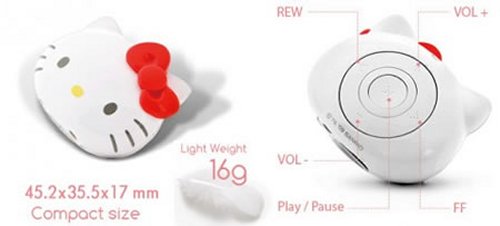 Hello Kitty strikes again. iRiver just unveiled their latest MP3 player in the likeness of the Little furball. As usual with this sort of thing, don't expect great specs. It's basically a paperweight that plays music. It features 2GB of storage space, MP3 and WMA support and an integrated FM radio with no display.
It's available in Japan for about $60 and we hope it stays there. I guess the lame specs show what the Hello Kitty people think of their fans. Just slap a cat face on it and people will buy it.

Remember, you have the power. You can stop buying this crap at any time.
cat, DAP, Hello Kitty, MP3 player