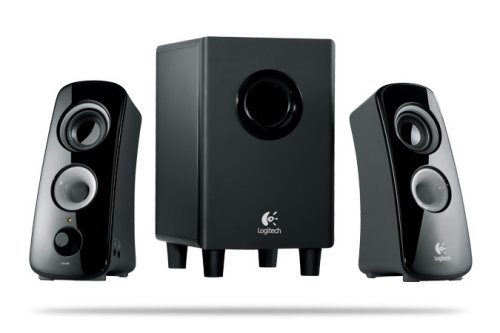 Good speaker systems are hard to find. Especially if you want a small form, with big sound. And bass is usually disappointing in these small systems. I can't tell you how many times I've been disappointed with speakers that don't deliver. So I decided to give Logitech's Z323 a try.
These speakers are acoustically engineered to project audio evenly in all directions, not just one. The idea is that you hear the full range of sound throughout a room. Another interesting feature is the down-firing woofer designed to deliver rich, deep bass. The two satellite speakers claim to produce warm mid-range tones and crisp high notes. You can plug in your Logitech Squeezebox, gaming console, iPod or DVD player. So what did we think of the Z323? Read on.

First Logitech needs to be complimented for it's environmentally friendly packaging, at least in this case. You won't find any styrofoam and you won't need the jaws of life to get in the package. Just open the box and everything is there. The 3 speaker units are wrapped in plastic and it's all easily accessible, which is a breath of fresh air.
Setup is easy, taking less than 5 minutes. Just connect the left and right speakers to the woofer, plug it in the outlet, plug it into your DVD, Xbox, Home theater or whatever and you are ready to go.
One interesting feature of the Z323 are the two headphone jacks on the right speaker that let you listen in private if you like or let you attach your mp3 player, laptop and the like directly. So the first thing I did was plug in my mp3 player. Hooking it up this way is convenient and even though in this configuration the sound is limited by the device plugged in, I was really surprised by the sound. Especially that downward firing bass. That bass really lives up to the hype. It sure beats listening from laptop speakers and fills the entire room. And the convenience of these two headphone jacks is awesome. What I like is that you can leave the speaker system attached to your home theater, just plug in your mp3 player and just like that, you have quality tunes.
The quality of this speaker set only gets better from there. Attach it to your game console for a real audio treat, your dvd player etc. That downward firing bass combined with the 360-degree sound from the two satellites has to be heard to be believed. I was really prepared to be disappointed with this speaker set too, but I have yet to find any faults.
The real beauty of the sound hit me even harder when I attached them to my flatscreen HDTV. The speakers on HDTVs are a common complaint. Let me tell you, for the $69.99 price tag, these are awesome home theater speakers. The richness and "realness" of the sounds create a movie theater quality sound system in your home for cheap. These things fooled me more than once into thinking that a sound on TV was a sound in real life. You feel the bass and other sounds. That can be annoying, but it's a good thing. They pump out so much sound that I only crank them about halfway, which means that these will be good in a room much larger than my living room.
And since they are on the small side (The woofer is only about 8.5 inches tall) they can sit just about anywhere.
My bottom line on the Z323 speaker system is that you should rush out and get a set pronto. I have one tiny compliant and it's not really that big of a deal. It would have been nice if it had a remote and some more port options aside from the dual RCA jack.
audio, Hands on, Home Theater, Logitech, Review, speaker system, z323