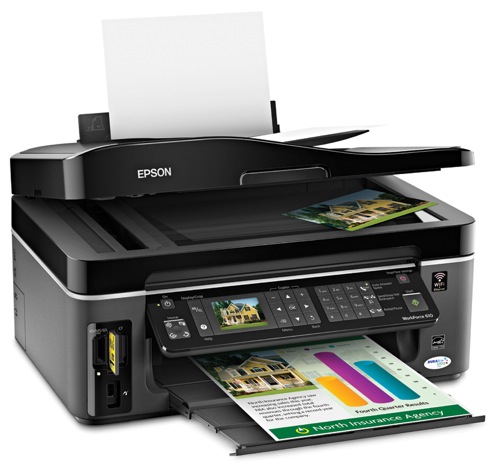 Epson's new Workforce 610 all-in-one printer is aimed at small businesses and home offices and the like as it's capable of handling a wide variety of jobs all in one convenient device. You might remember that when we reviewed last year's model, the Workforce 600, we really liked it. So how did the 610 stack up? Read on and find out.

Right out of the box, you are ready to go, with all of the ink cartridges, a phone cable for the fax and the software. Just plug it in, load up the software and choose whether you want a USB connection or whether you want to use it wirelessly. The software takes a while to load up, but aside from that, you are ready in minutes.
The 610 is the same size as last year's model. It may not be smaller, but it's small enough that you can easily find a convenient place in the office for it. Like the previous model, it features WiFi capabilities, laser quality printing, fast printing speeds, built-in memory card reader, and an LCD to preview your pictures and operate everything.
And just like it's predecessor, one of the nicest things about the 610 is the ability to print things wirelessly. Print from any computer in the home or office and just wirelessly send it to the 610. It's simple easy to use thanks to the LCD interface on the front panel. Navigation and the editing of your photos remains super easy and not much has changed. Just like before, you can scan documents and save them to the memory card or USB drive.
We put it through it's paces and just like the previous model, it delivers high quality images and documents, photos fast. Though photos won't be as instant since it is pushing out a higher quality. In our tests, compared to the Workforce 600, the 610 doesn't seem very much faster and it doesn't seem to deliver much higher quality images. The two models are very much on par with each other.
It's an impressive all-in-one for sure and does the job, delivering high quality prints fast and is perfect for any home or office. Just don't expect a quantum leap over last year's model. The quality was great to begin with. The bottom line on the Workforce 610 is that we recommend it. It will make your life easier in almost every way, from scanning, to faxing, to printing images and documents. And it does so for $199. So just like the previous model, you really can't go wrong.
I would suggest that Epson just needs to concentrate on making these models smaller still, that would be the icing on the cake.
all in one, Epson, Hands on, printer, Review, WorkForce 610