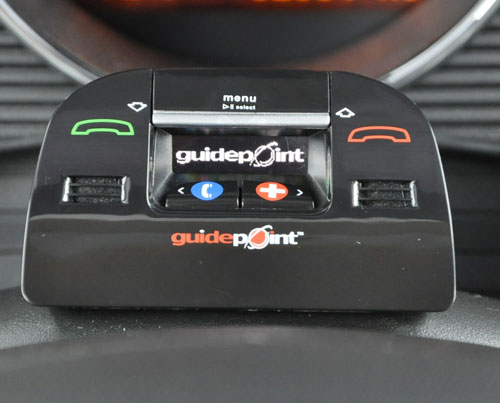 There are lots of cars on the road from GM that feature OnStar. The service allows drivers to place hands free calls and dials 911 automatically in the event of an accident. The GPS features of the service can also provide the exact location of the car for EMS and roadside assistance.
A company called Guidepoint has announced a new hands free Bluetooth device that offers some of the same features as OnStar. The device can be coupled with an optional GPS tracker to give positional information for roadside assistance and EMS services.
Unlike OnStar, the Guidepoint device can't dial 911 automatically in the event of an accident. The device calls medical services when the user presses a white cross button on the front. The device also allows the driver to control their mobile phone for voice calls and interacts with the iPod MP3 player. The device will be offered through new car dealerships and car electronics stores for $399 plus installation. The price includes the emergency call services and a year of Guidepoint Silver service. The GPs module is sold separately.
Bluetooth, hands-free