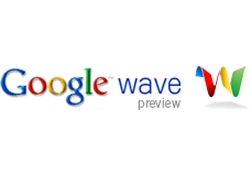 Google has now started public testing by invitation only of Wave, a new online tool for communication and collaboration between people online. Wave has been described by its designer as what email would look like if it was invented today, and contains real-time communication through text, photos, video, maps and more according to Google.
The communication using the Wave tool is live somewhat like an instant messenger allowing users to see others edits as they make them, character by character. Should a users not be online at the same time, the communications will still be available to view at a later date, much like emails waiting in your inbox.
Wave is by invitation only, meaning Google is making it available to particular Google users and developers since the tool has an API that lets developers create custom applications against it. Invitees area also able to invite friends since communication and collaboration is difficult to do by yourself. Wave runs native in most browser but interestingly enough, not Microsoft's Internet Explorer. For IE users will need a special Chrome plugin to make it work, however Google insists this is not deliberate.
collaboration, communication, Google, Google Wave, Wave