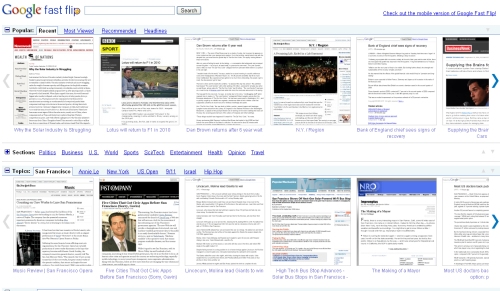 On Monday Google released a new online service to the public called Fast Flip on the companies experimental Google Labs site. The new tool is designed to allow users to see full pages of different magazines and newspapers more as if they were physically viewing them by allowing them to flip through the pages, which it kind of does.
The Fast Flip page is laid out into into sections of popularity, topics and even some particular sources. Static images of the pages of different articles are then shown for the section you are looking for that you can click on. Clicking them shows a larger static image on the page, but not necessarily all of it. You can then move back and forth to static pages of other articles on the subject, or click the source you are viewing again to actually get the web page.
The design is interesting but for us did not seem real practical for scanning multiple news sources online. It takes a little more work to read even an excerpt of each article and the static images are just that, no hyperlinks or interactive media works unless you go to the web page anyway.
The service is working with particular partners at the moment and showing ads in between the pages, with the overall intention of trying to find different avenues to bring readers into an article and its advertisements. We think it's a neat concept and could have some applications, but we'll be surprised to see it make it very far, or even out of the Labs.
Fast Flip, Google, Google Fast Flip, Google News