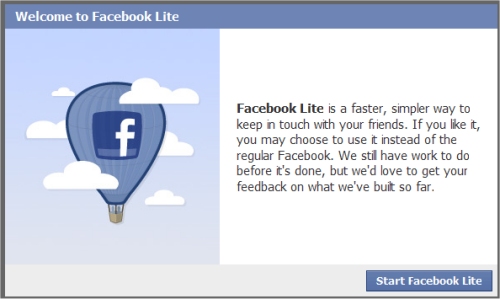 We all know Facebook is continuously evolving, and just recently the social networking behemoth made some announcements that will likely make its popularity even larger, partly by making things smaller. On Thursday Facebook launched Facebook Lite, which is basically a scaled down version of the current Facebook site. Existing users can log onto Facebook Lite and it even uses the same cookies to recognize you if you are already logged in. All you friends are there and you can post messages, but it's just got a little fewer "pieces of flare" about it.
The idea for Facebook Lite is to make a slimmer version of Facebook, not too unlike Twitter, that more people could use in places that have limited access to bandwidth, so the pages are not so "heavy" to load. So far the site is ironically only available in the U.S. and India, but I suppose they have to test it out somewhere. Chances are it will be rolling into some more obscure areas of the world soon.
In addition, Facebook also announced on Thursday that they will be rolling out the ability to tag your friends or groups with Status and Posts, again possibly also taking a queue from Twitters key tagging feature. Currently Facebook users can tag their friends to identify them in photos and videos, and now they can do it in their status updates as well.
A post on the Facebook blog talks about the details, and basically by entering the "@" symbol while typing your status update, users will be presented with a drop-down list of friends and groups that they can use to tag them in in the post, similarly to how it is currently done in photos. Others can then find information about a particular person by finding all of the places that they are tagged in text as well as pictures. The tagged individuals will be notified when they are tagged and have the ability to remove their tags, just as they do with photos.
According to the Facebook blog post, the new post tagging feature will be rolling out over the next couple of weeks.
Facebook, Facebook lite, lite, social networking