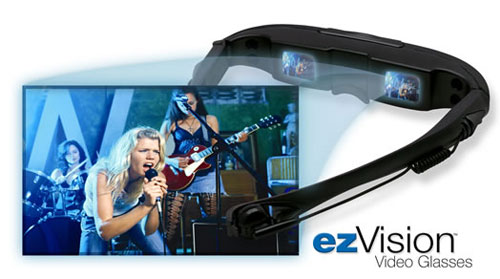 ezVision video glasses have been around for a while now and are a great way to get a larger image without having to tote around a large device. The glasses have always had a DVD option and today the maker has announced a new iPod/iPhone adapter for the glasses.
The iPod/iPhone adapter plugs into the charge port of the iPhone and sends any video out onto the glasses giving you a simulated 50-inch or larger screen depending on the model of glasses you use. The adapter is available as kit or alone.
A kit with the glasses and the adapter along with other accessories is available for $299.99. If you already own the glasses, the adapter for the iPhone/iPod alone sells for $19.99. The adapter is Made for iPod and Works with iPhone certified.
ezVision, iPhone, iPod