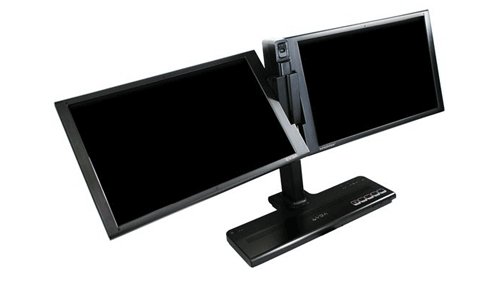 Two heads are better than one, so two LCD screens slapped together must be better than one. EVGA's dual-LCD InterView is now finally available to order. It's selling for as low as $624.99 (or $640 list price). The monitor features dual 17-inch LCDs that can be used in screen-spanning mode for an extra-wide 34-inch display, or be rotated and reoriented for users sitting across form each other gameshow style.
Each display sports 1,440 x 990 resolution, and you'll need dual VGA or DVI inputs if you want to run it from one computer. Some other features include 8ms response time, a 1.3MP webcam with microphone, and a three-port USB Hub.

This Siamese twin monitor is available now.
Dual-Monitor, EVGA, Interview, system