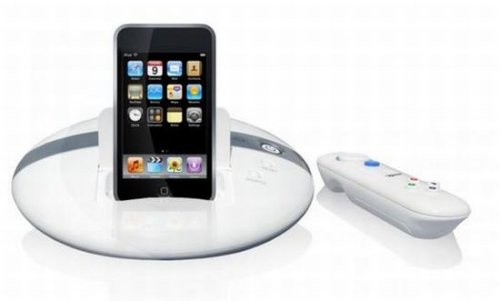 There are more iPod docks on the market than you can shake a stick at. Not sure why you would do such a thing, but it's true. But Elonex has something new in iPod docks. Something actually innovative. The iGAME dock may not be sexy, but it can handle music, videos, podcasts and video podcasts in the usual way. But what sets it apart is that it's primarily a game console, designed to use Apple's newest players. And yes, it owes much to the Wii.
The price is only £79 and games are priced at only a few pounds. They are aiming to have iGAME FAMILY being popular for Christmas of 2009.

The basic package comes with 20 free games, like tennis, bowling, trampoline, ping pong, darts etc. Plus they will establish partnerships with games publishers for more, Elonex also has a Software Development Kit to encourage developers to come up with their own games, which can then be sold like apps in Apple's App Store.
Dock, Elonex, Games, iGAME dock, iGAME FAMILY, iPod, motion-sensing, tv