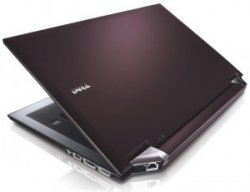 Dell has released details on their latest flagship business laptop. Dubbed the Dell Latitude Z 600, it features a 16 inch screen with a resolution of 1600 x 900 pixels and a backlit keyboard.
You have your choice of 2 processors; the Intel Core 2 Duo running at 1.4GHz or a 1.6GHz SU9600 processor. You can configure it with up to 4GB as well get dual SSD drives for storage. The Dell Z 600 also boasts an optional wireless charging stand for $200 as well as a wireless dock that houses a USB, DVI and other connections.

Some other features include a 2 megapixel webcam with autofocus, a touch-strip on the side that allows you to select menus by programming shortcuts, Wi-Fi, Bluetooth and integrated 3G. You'll get a 4 hour battery life with the standard 4 cell battery while the 8 cell pack can see the laptop doubled to 8 hours.
The base model will cost $1,999 when launched and it is available now, although wireless charging wont be available for another month yet.

[GV]
Dell Latitude, laptop, Z 600