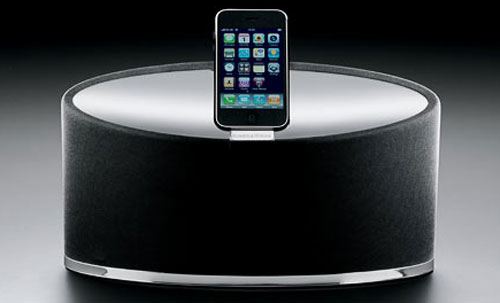 One of the better iPod docks that I have tested in recent years was the cool (and pointy) Bowers & Wilkins Zeppelin. The only real downside to that thing was that it was very large for a speaker dock. I guess B&W felt the same way and the company has unveiled a new smaller Zeppelin Mini iPod dock.
Ironically, the only simularity between the original Zeppelin and the new Zeppelin Mini is the name. The Mini has a rotating docking arm that allows the iPod to be turned to landscape mode for viewing album art. The device also has a USB port to allow you to stream music from PMPs attached via USB as well as your Mac or PC.
Inside the Mini is a 2 x 18W amp along with a pair of 3-inch full range speakers. The device is designed for both the iPod and the iPhone. A 3.5mm headphone jack is included for connecting players that aren't dockable. The USB port will also allow the synchronizing of your iPod while it is in the speaker dock. The device will ship on October 20 for $399.
iPod dock, speaker, Zeppelin Mini