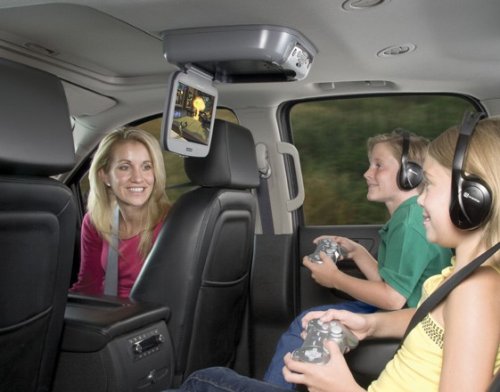 Are we there yet? No. Are we there yet? Soon. Are we there yet? Shut up and play your PS2 already. The VOD10PS2 is said to be the first fully integrated gaming system for the car. The overhead system not only features a 10.2-inch display, but it also boasts a PlayStation 2 console.
Here's the thing. It costs $949.99, which is way expensive just to keep your rug rats busy. But for that price you get the box itself, a screen, a PS2, two wireless controllers, built-in dome light, a pair of fold-flat IR wireless headphones and a copy of Ratchet & Clank: Going Commando and Hot Shots Golf 3.

It even comes with a remote and FM transmitter and a pair of trim rings that hopefully will match your interior. Anyone willing to pay a grand for this? I guess it depends on how annoying your kids are.
Audiovox, gaming, playstation 2, PS2, VOD10PS2