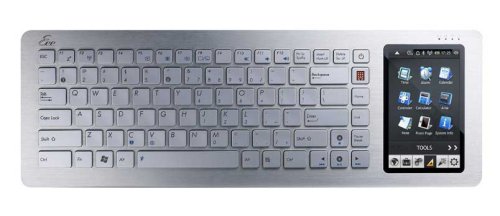 The wait is nearly over. Asus has finally committed to an October U.S and European arrival for the highly anticipated Asus Eee Keyboard. We had hoped it would be here in August. The keyboard has a 5-inch touchscreen and Ultra Wideband HDMI (with receiver) to connect to your TV. And we want one now.
Some of the Eee Keyboard's specs include a 1.6GHz Atom processor, 1GB of DDR2 RAM, 16 or 32GB solid-state hard disk, 802.11n Wi-Fi, Bluetooth, and HDMI. We don't have a price yet, but we're hoping that Asus can keep it reasonable.

We've been waiting for this one for awhile.
Asus Eee Keyboard, October, pc, Wireless HDMI