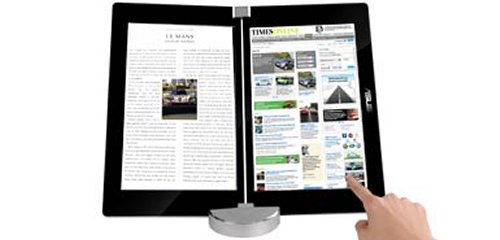 Here's an interesting eBook from Asus dubbed the eee-Book, sporting two color displays that lets you flip the pages like you would on a real book. Think of it as a large Nintendo DS on it's side. You can also browse the web on one of the displays, presumably while reading on the other.
It connects using 3G or Wifi, comes with a memory card slot and supports Skype audio/video conferencing. The price is a really nice $165. Look out Kindle! That's about all the info we have right now, but we like what we see.

When we know more, you'll know more.
ASUS, dual-color displays, ebook, eReader