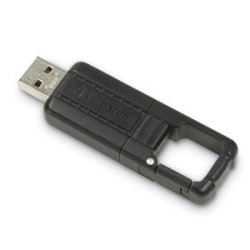 Verbatim announced today that it is shipping its new TUFF-CLIP USB drives, which are available in 4GB and 8GB sizes. These are aimed at those who brave the outdoors. The drives are outfitted with an integrated carabiner clip that allow them to conveniently clip to your backpack, belt loop or key chain.
The 4GB version is only available in turquoise, while the 8GB model is available in black only. Both TUFF-CLIPs have a password-protected folder to keep data secure on Windows systems, along with a freely accessible folder.

Windows Vista compatibility and ReadyBoost support lets you use the USBs to speed up system performance, which is a nice bonus. Also compatible with Mac and Linux for regular storage.
rugged, secure, TUFF-CLIP, usb drives, Verbatim