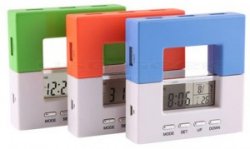 This USB hub doubles as an alarm clock, which could be a good thing if you have a desk job that has you falling asleep at the computer. Just set it to go off when you want to wake up and pretend you're busy. It has 4 USB 2.0 ports that can be rotated 90 degrees.
Some other features include a transfer rate of up to 480Mbps and the alarm clock has a calendar, built in clock and an alarm function that plays 5 tunes. It's an odd combination for sure and comes in orange, green and blue.

It will run you $15. Staying awake so you don't get fired? Priceless.
alarm clock, desk, gadget, hub, USB