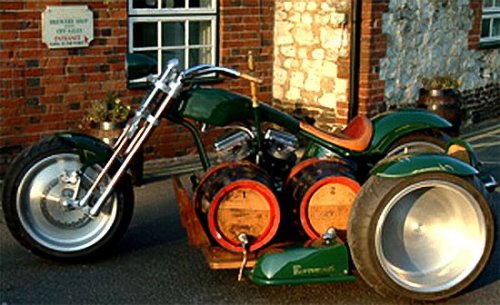 Forget drunk driving. The Beer Trike drives your drinks. It is essentially a mobile pub. And perhaps one of mankind's finest inventions. It could be as big as the ice cream truck, only for adults. The beer trike was built for the British Biker Build-Off.
You have your usual bike along with a sidecar, and a completely operational mobile bar. It also sports air suspension on all three wheels. The only concern is how to keep all of that beer cold. If I could, I would buy this and travel the country filling mugs everywhere and becoming a legend.

People would carry mugs with them everywhere in hopes of running into me. It would be all vroom vroom and hangovers. Awesome.
beer, British Biker Build-Off, custom, cycle, trike