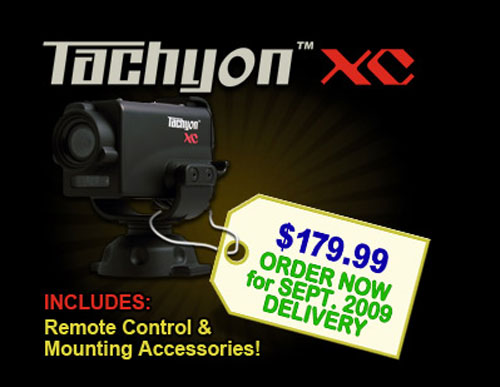 I am a fan of motorsports like drag racing and motocross. One of the coolest types of video on YouTube and other sites are the sort shot from inside the cockpit or on the helmet of people during their favorite motorsport.
A company called Tachyon has announced the 2010 model of its XC camcorder will be shipping in mid-September. The camera is designed to be shockproof, offer a wide field of view, and superior light gathering capability for good images.
Tachyon claims that the camera has up to 12 hours of recording capability per set of batteries and the camera includes a remote control for turning it on. Tachyon also offers a system with a pair of the cameras to record 3D footage. Recording is done to a SDHC card up to 32GB allowing for up to 12 hours of recording time. The normal XC cam retails for $179.99 and the 3D system with two of the cameras, software, glasses, and a special mount sells for $379.99.
camcorder, Helmet Cam