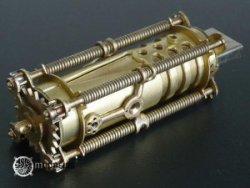 This Steampunk USB Flash Drive looks a little more authentic than some others. This one was created by a Russian modder, using some cogs, screws and a brass pipe.
You can easily picture this one attached to a victorian laptop, had they had such things. You can load your plans for all of your Steampunk creations on this drive and keep them safe in style. If you think you have the skill and want to make your own flash drive with a similar look, full instructions are available at English Russia.

We love the look of this one. Not too fancy, not too plain. Just right.
art, DIY, flash drive, hack, mod, steampunk, USB