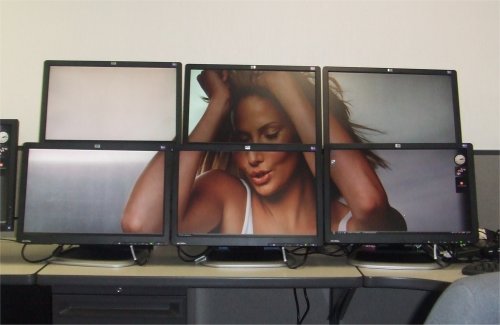 Running multiple monitors on a single computer is just plain cool. At least it is for us here at the 'Brick, and the more the better. So, when we heard about HP's USB graphics adapters which allow you to connect multiple monitors via USB, we had to try it out. HP says a single computer can run as many as six of them and we wanted to see just how well.
THE SETUP:
We ran our testing with some pretty standard equipment. We used an HP ultra-slim desktop PC running Windows Vista with 2GB of RAM and an Intel Core 2 Duo processor, along with six average 19″ displays and a single 20″ display. And of course six USB Graphics adapters (actually we had seven adapters but we'll get to that later).
CONNECTING:
To connect we first booted with a single 19″ display to the integrated DVI display connection on the PC. (We could not get a display to show on boot with just the USB connections alone.) After this we connected a single USB Graphics Adapter via USB 2.0 and connected the other end of the adapter to the DVI connection of another 19″ display. The adapter was automatically detected and Windows installed the driver. Within about a minute the additional monitor was available for display. The display adapter also installs a small monitor-managing tool but that did not show up for us until we rebooted once.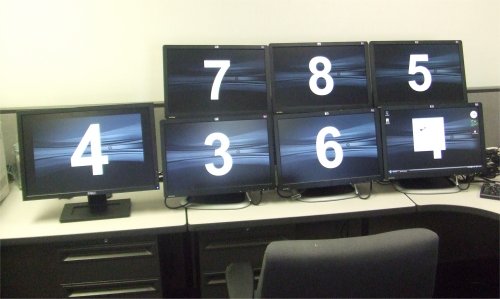 After a restart we proceeded to connect the other 5 display adapters and monitors to the PC each through their own USB cable and each was subsequently discovered and connected to Windows without a hitch. The adapters would even discover the specifics of the monitor was for resolution and size. The 20-inch widescreen was identified and differentiated from the others for the appropriate resolution. All-in-all connecting all the monitors was very quick and simple. The adapters came with a driver disk but we chose to try running them by just connecting and had no problem.
VIEWING:
Actually viewing information and media on all of these different monitors is really where the rubber meets the road in this review. After all, connecting them is only the first part. We need them to perform well once they're connected.
We started out just viewing simple Windows forms and applications such as the Windows Control Panel and applications like Notepad. These worked well and we were able to drag them between monitors and span across multiple monitors while noticing virtually no stutter in the display at all.
Troubles:
The places where we ran into trouble was viewing images or video through Windows applications. For example, viewing a static image in the Windows Picture Viewer worked fine on the monitor connected directly to the PC, but would not ever render correctly if we moved it to a different monitor or even if it initially opened in a adapter-connected monitor. We had similar trouble with videos using Windows Media Player. Any videos through this application would simply stop playing a show a black display when moved to the monitors on the USB adapters. They would then resume when moved onto the monitor connected straight to the PC.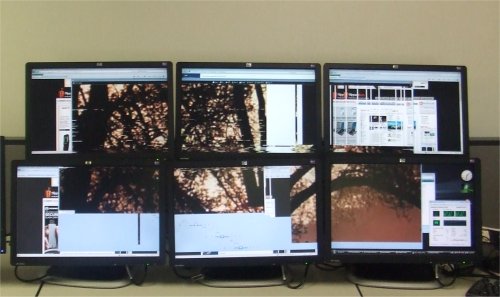 We also were not able to connect more than six USB Graphics Adapters at once. The documentation from HP states that it supports up to six, and that does appear to be the limit. We connected a seventh and things would run, but we would randomly lose one of other six displays and the remaining display configuration would change requiring us to reset the configuration they way we wanted, but only after we removed the seventh display adapter. The PC we used in our testing had a single DVI adapter allowing us to connect it along with six more displays, however Windows supports more than seven. We've heard Vista will support as many as ten, meaning that a computer with a dual monitor graphics card could easily have eight monitors connected by using the maximum six USB Graphics Adapters.
Worked Well:
What did work well however is any graphics or video that we viewed through a browser or setup as a background display. (We had a little help from UltraMon for the background displays.) We used the Internet Explorer browser and were able to easily view a different web page on each monitor with a different browser instance, and were able to span a single browser across all monitors without noticing even a stutter. We could even open large images in a browser window and span that across all seven displays with little noticeable increase in the processor work.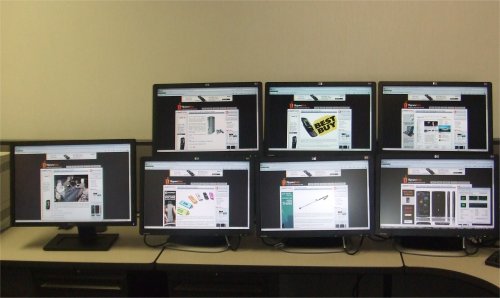 To take the display adapters a little further, we opened a different YouTube video in each window and played seven different videos all at once (in the standard YouTube video resolution). This worked out very well and all seven videos played at the same time without any skips, each on their own monitor. We were not able to get the YouTube videos to expand across all the monitors unfortunately; they would just expand to the size of the display they were in. This appeared to be a limitation of the YouTube player and not the display adapters. However, we were not ever able to get any type of video animation to render across all of the displays.
Background images were also easily displayed with the aforementioned help from UltraMon. UnltraMon easily supported displaying large background images across the seven monitors through the graphics adapters in different configurations, which was actually pretty simple and of course pretty cool.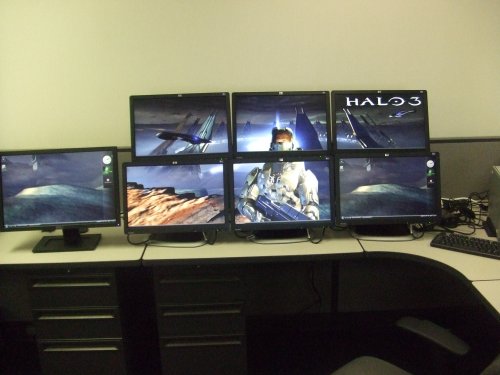 Overall we were very impressed with HP's USB Graphics Adapters. Using the multiple displays would be very handy to monitor different media on the different screens such as charts, video from web cams or anything else that would update in a browser. Not to mention that it just plain looks cool.
Take a look at the video below showing some static images of our tests as well as the multiple YouTube videos playing at once. Also check out the gallery of photos from our testing. You can pick up the graphics adapter from HP's website where they are retailing for just under $60 each.
Image Gallery:

DisplayLink, graphics adapter, Hands on, HP, HP Graphics Adapter, multiple monitors, reviews