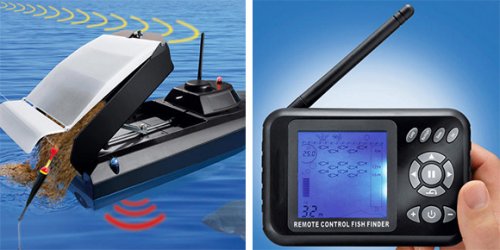 Fishing can be fun, but really boring if they aren't biting. This remote controlled Feed Boat can give you an edge against your gilled adversaries. The device comes with a built-in sonar sensor so it functions as a fish finder.
The remote control features an LED display that will always show you just where the best spot to fish is. It will also show you the current water temperature. It has a range of 948 feet and a tipper for 4.4lbs of bait as well as an underwater LED light. How does a pair of jet motors sound? That ought to help you get through overgrown waters.

All this for only $726. Hope you really love fishing.
Feed Boat, fishing, R/C, Radio Controlled