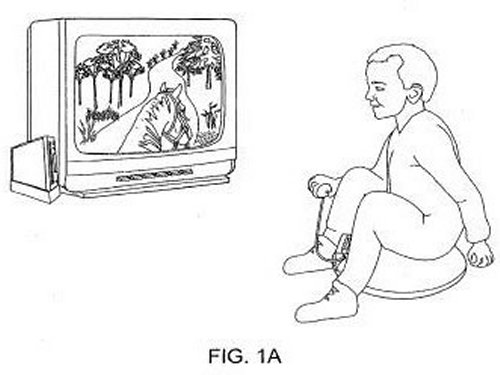 If you thought that the already available range of Wiimote attachments was crazy, check this out. They are not out of gimmicky ideas just yet. The patent system gives us a glimpse at an inflatable horse-riding controller that may or may not one day have geeks parting with their money.
The inflatable cushion has a spot for your Wiimote and can track your crazed bucking and thrashing as you shout yeehaw, translating it into horse movement. You would hold the nunchuk as if holding the reins.

Of course, it doesn't have to be a horse: Nintendo's patent lists a variety of things you could mount, some real and some imaginary. Like bulls, camels, elephants, burros, dolphins etc. How about "hang gliders or other aircraft, a magic carpet, a motorcycle, a jet-ski, a land or sea exploration vehicles."?
controller, Horse, inflatable, Nintendo, patent