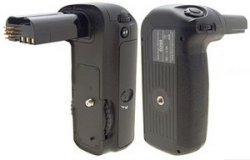 When your Digital camera runs out of juice at the worst possible moment, it's enough to make you want to scream. The Nikon Battery Grip can help. It holds six AA batteries which can be used to power your Nikon D200 through an adapter.
If you are a serious camera user, this one is a no brainer. Why chance missing out on that perfect picture? The Nikon Battery Grip will retail for £99.59 and save you a ton of frustration.

If you miss a lot of great pics, this is well worth it.
Battery Grip, DSLR, Nikon, pro