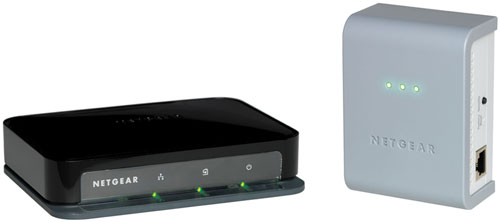 I have wished on several occasions that I could get my DVR connected to the internet. The problem for me is that my house is larger and my router and modem are a long way from my living room and running new cable through the walls is not an option.
At CES Netgear was showing off its Home Theater Internet Connection Kit and the company has announced that the kit is finally shipping. The kit is nothing more than a powerline networking system that includes a switch for the entertainment center with four ports and the adapter that plugs into your internet router.
The kit uses the power lines in your home to connect AV components online with speeds up to 200Mbps. The kit also has push to secure features that secure the network at the press of a button. The connection kit sells for $179.99 and is shipping now.
netgear, Powerline Netwroking