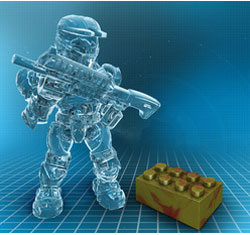 I played with lots of Lego's when I was a kid and my mom hated it. I always left the parts around where she would suck them up with the vacuum. I also got into more than one fight with my brother or friends over who got that last set of Lego wheels. You may have heard about the Lego alternative called Mega Bloks.
The company that makes Mega Bloks offers a line of Halo kits for fans of the games. The company is signing fans up to receive limited edition Halo Wars figures given away first come first serve. There will be 9,900 UNSC Steel Spartan figures given out.
There will also be 100 randomly inserted ultra-rare USNC Active Camo Spartan figures offered. Those participating in the giveaway have to pay shipping and handling for the items. The giveaway started on July 31, so if you want one of the figures you had better hurry.
Halo, Mega Bloks