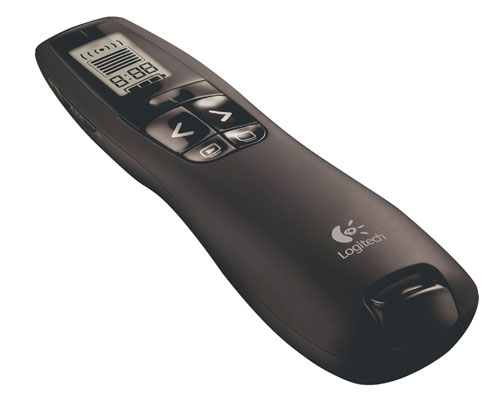 When I was in college, I had the (dis)pleasure of sitting through more lectures than I ever care to endure again. One thing that I always hated was that the professors used a wireless presenter and would inevitably end up standing beside my desk so I had to pay attention.
Logitech has announced a couple new wireless presenters called the R800 and the R400 that are designed to allow business users to walk around while controlling their presentation for a PC. The two models include the R800 and the R400.
The R400 has an integrated laser pointer, 50-foot range and is designed to be comfortable in the hand. The R800 has a built-in timer and vibrating alerts to warn you when you are nearing your time limit and when you have gone over it. The R800 also has a 1″ x 0.5″ LCD and a wireless range of 30 meters. The R800 will sell for $99.99 and the R400 will sell for $49.99. Both will ship in August.
Logitech, Wireless Presenter