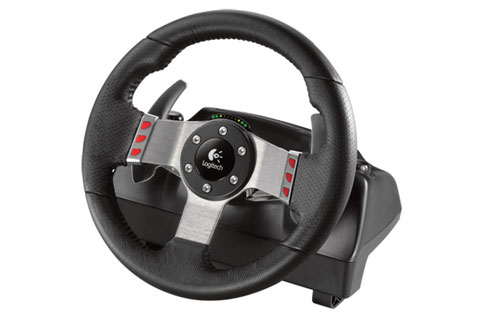 When Logitech unveiled its G25 racing wheel, I was one of the first in line to get the thing. I love my G25 and I still use it frequently on my PS3 for playing racing and driving games. Today Logitech has announced a new high-end racing wheel to replace the G25.
The new Logitech G27 looks a lot like the G25 and offers dual force feedback motors and a mechanism with helical gearing. The wheel also features an RPM/shift indicator LEDs and has 16 programmable buttons and a D-pad.
The wheel has 900-degrees of rotation with 2.5 turns lock to lock like a real car. The pedals also sport flip down teeth to keep them in place on carpeting. The 11-inch wheel also includes a gated shifter with six speeds and push down reverse. The pedals include a steel brake, clutch, and brake pedal. The wheel will work with the PC, PS2, and PS3 consoles. You can pre-order yours now for $299.99.
G27, Logitech, Racing wheel