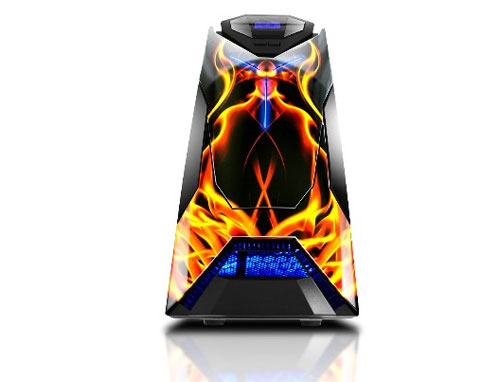 I am a big PC gaming enthusiast and my gaming PC has more money in it than some people spend on their first cars. It's worth it to me to get good frame rates and enjoy my hobby. If you are a big PC gamer and don't want to spend big bucks on a gaming machine, iBuyPower has a couple new offerings that are reasonably priced.
The company has introduced AMD and Intel flavors of its slick Chimera Killer Special Edition gaming PC. Both versions of the system feature the Killer Xeno Pro gamign network card. The Intel machine sells for $1899 and features a Core i7 920 CPU, 6GB of RAM, an Asus P6T mainboard, and 750GB of storage. The machine also sports a pair of NVIDIA GeForce GTX 275 video cards.
The AMD version of the machine is $1499 has a Phenom II X4 955 BE CPU, 8GB of RAM, Asus M4A78T-E mainboard, and a 750GB HDD. Graphics for the AMD version are a pair of Radeon HD 4770 video cards. Both of the machines are inside a cool flamed out chassis too.
gaming PC, ibuypower