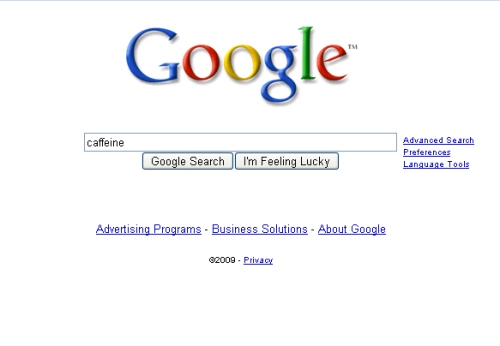 On Monday Google unveiled what they are calling a "next-generation infrastructure" for their web search, and they are asking the public to give it a try. The "secret" project has been underway for months according to a recent post on the Google Indexing blog, and is almost complete. According to the post, the new system "…will let us push the envelope on size, indexing speed, accuracy, comprehensiveness and other dimensions".
Google has codenamed the new underlying search indexing "caffeine", and is looking for the general public to give it a try and provide feedback in the way of differences between the new and old. The new indexing can be tried out at http://www2.sandbox.google.com/, where you can do a search and see if you can tell any difference in the results. According to the blog post from Google, they are only looking for feedback in differences at this time.
In some quick tests that we did our searches seemed to come back with about the same results, and maybe a few more indexed pages for some sites. They did come back quicker, though. A search for "SlipperyBrick" on google.com came back in just over .6 seconds, while the same search on the new caffeinated Google had a time result of just .14 seconds. To be honest I couldn't really tell the difference without Google showing the result times, but they are saying it's faster.
caffeine, Google, indexing, News, search, search engines