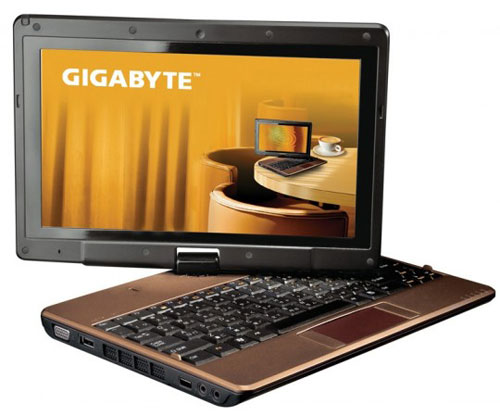 Netbooks are huge right now with the little machines racking up sales numbers that traditional notebooks are having a hard time matching. The sweet spot for netbooks today is the 10.1-inch screen size and Gigabyte has announced a new convertible netbook that should appeal to many users.
The machine is called the T1028x and its 10.1-inch screen is touch sensitive. The machine has a 6-cell battery with 54wh or power, so its run time should be pretty good. Other features include a screen resolution of 1366 x 768, Wi-Fi, Bluetooth, and an ExpressCard 34 slot.
The machine uses an Intel Atom N280 CPU, 1GB of RAM and has 160GB of storage space. There is no sign of an MSRP for American, but the machine is available in Europe for the equivalent of $702. That seems like too much for the feature set the netbook offers to me.
Gigabyte, Netbook, SlashGear