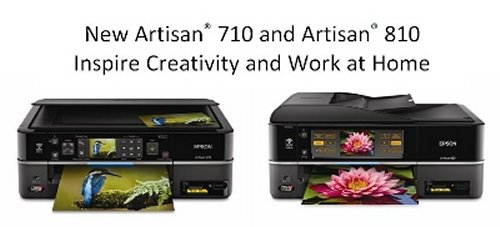 Hot on the heels of their new Workforce printers, Epson has announced the upcoming release of the Artisan 710 and 810 all-in-one printers. Each feature an integrated Wi-Fi connection and Ethernet ports and both can print on both sides of a page. Compatible devices can be charged using the printers' USB port. You can also print images wirelessly straight from your iPhone.
The Artisan 810 sports a color fax with an automatic document feeder and a 7.8-inch touch screen along with a 3.5-inch color LCD. The 710 uses a touch button control panel with a 2.5-inch LCD.

Both will do copying and scanning, with photos able to be printed without a connected computer thanks to a built-in memory card reader and USB. Both all-in-ones are available now, with the 710 priced at $180, while the 810 costs $300.
710, 810, all in one, Artisan, Epson, Printers