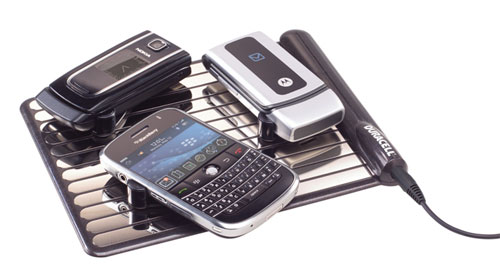 Of all the features, you could add to my smartphone, at the top of the list of features I really want is easier charging. It's not difficult mind you to plug in a cable, it's just inconvenient since I always have to climb around under the desk looking for it after it inevitably falls off.
I want to walk in and lay the phone down to charge and be done. We have seen this type of wireless charging system before from WildCharge. Duracell is now peddling a line of Smartpower devices including one called the myGrid charging pad. The pad lets users charge multiple devices by just laying them on the pad.
It can charge MP3 players, phones, and other devices by fitting them with a power sleeve or a power clip. The myGrid looks so much like the WildCharge system I think they may have licensed the product. As far as phones go, the myGrid has solutions for the iPhone, Blackberry, Motorola, and Nokia devices. The myGrid is set to ship in October.
Charging, Duracell, myGrid