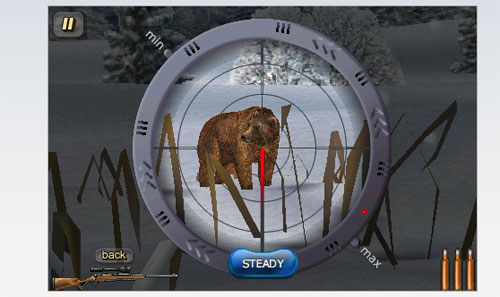 I make my share of calls, send texts, and surf the Internet on my iPhone, but mostly I use the thing for playing games. I play way more games on my iPhone than I ever thought I would. With the iPhone being such a great gaming platform, I am always on the lookout for new games to try out. Today I am going to look at a game called Deer Hunter 3D. This game is one of my arcade favorites so read on for all the details on the Deer Hunter 3D for the iPhone.
Controls
I have tried several shooter games on the iPhone and most of them have had controls that I didn't like. I don't like having to tilt the iPhone back and forth to line up a shot. Thankfully, Deer Hunter 3D has great controls that are so simple a 4-year old can use it. Before you ask, yes I let me 4-year-old daughter play the game. We live in Texas; at least we only hunt digital animals.
The controls for the game are all gesture based. You use your finger to drag the crosshairs around the screen and line up your shot and then you tap the screen to fire. Each weapon has a circle that the crosshairs move around in to simulate movement. Which weapon you are using determines how large the circle is and how hard it is to get a kill shot. The game also has a steady button that holds the cross hairs a bit more still for a short time.
Game Play
The game has three different hunting areas including American Midwest, Northern Europe, and Western Russia. Each area has an assortment of animals from deer, to bear and moose. Each hunting zone has four levels of difficulty that require more points to unlock the next level or next area. Points are calculated by the size of the animal, whether it was in cover when you shot, and if you hit a vital area. Wounding an animal will result in it running off and you have to hunt it down again using the GPS map feature.
Hitting your limit or ending a day without finishing off wounded animal results in a point loss. The weapons in the game include a bolt-action rifle, shotgun, single shot rifle, compound bow, black powder rifle, and an AK-47. The AK is there simply for kicks you can't score any points using it. You start with the bolt-action rifle and have to unlock the other weapons by going on hunts and scoring points.
The game has very good graphics to go along with the fun game play and great controls. The game is a bit pixilated, but about what you expect from most games on the iPhone and the graphics remind me very much of how they look at the arcade. The only bad thing about the game is that it is very easy to fire accidentally when you are moving the crosshairs around the screen to line up a shot.
Pros
Good controls
Lots of fun
Good Graphics
Cons
Easy to fire too early when trying to line up a shot
Verdict
Anyone who likes hunting or shooters will find something to like in this game. Deer Hunter 3D offers fun game play, simple controls, and tons of fun and is well worth the $2.99 asking price.
app, Deer Hunter, game, iPhone, Review, shooter