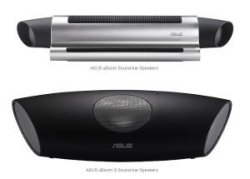 Asus has unveiled its first ever multimedia speaker series. The uBoom and uBoom Q soundbar speakers will deliver high fidelity audio and bass through a maze-like reflex port, which is then channeled through speakers specially designed to be positioned within the audio sweet-spot of most rooms.
Both models have USB 2.0 connectivity for audio output along with an interesting design that lets you "dock" your notebook, with the 2.1 notebook speaker able to pump out 24W of audio power.

No word on pricing or availability just yet.
ASUS, sound bar, Speakers, uBoom, USB