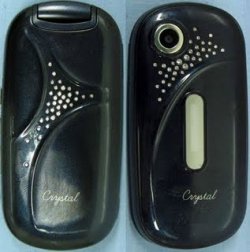 Apparently the FCC has more information on the upcoming Alcatel Crystal A from TCT Mobile Limited. The Alcatel Crystal A has a somewhat different artistic design on the outside with several crystals thrown in for good measure.
We aren't sure if they are real precious stones or just faux jobs. The features are pretty basic though. This oddball sports an integrated camera(unknown megapixel count), an integrated FM tuner, audio and video playback, a microSD memory card slot, Bluetooth connectivity and Java support.

If you like phones that look like they belong to Aquaman, then stay tuned.
Alcatel, camera, Crystal A, handet, phone